Join us on a fabulous
Bike, Barge, & Dance Cruise
August 27 - Sept 3, 2022 (Sat-Sat)

Departing from and returning to Passau, Germany.
– PLUS –
3-day pre-trip & 3-day post-trip dance & travel
adventure add-on options in Germany!
**SOLD OUT! -- SHIP IS NOW FULL**
CLICK HERE for details about this and other dance tours in the works on our Worldwide Dance Adventure Facebook Page
Overview:
It's official

!

The dates and itinerary are set for our first annual Dance/Bike/Barge Europe trip! Come explore, bike, and dance your way through Europe with Ari and Jae!

We will cruise, eat sumptuous meals, bike to beautiful destinations, and dance our way along the beautiful Danube River!
DATES:

Aug 24-26 (Optional):

Munich Pre-trip Add-on

-- tours, workshops, and dance parties.

Tours include

Nymphenburg Palace,

Munich highlights, plus music, dance, & workshops in

the biergartens and local dance halls. Details TBA.

Aug 27 - Sept 3: Dance, Bike, and Barge Cruise (see schedule below)

Sept 4-6 (Optional): Munich Post-trip Add-on -- tours, workshops, and

dances.

Excursion options include Salzburg and/or

Neuschwanstein; Sunday dancing in the palace gardens,

city dance tour, and more! Details TBA
WHAT YOU'LL EXPERIENCE ON THE CRUISE:
"Beginning in the German town of Passau, this bike and boat tour quickly crosses the Austrian border as it follows the Danube Bike Path east downstream through tucked-away villages and serene landscapes.

You experience the mighty Danube as it meanders through the "Great Loop" and enjoy the gorgeous landscape of the legendary Wachau with its castles and fortresses.

Vienna, rich in architecture and history, must be experienced. Sights like St. Stephen's

Cathedral and the city hall are easy to reach during a wonderful sightseeing tour by bike. A stroll through the Naschmarkt (famous food market) is a wonderful cultural and culinary adventure. You can also relax at any of the cozy coffee houses or at a typical traditional Viennese wine tavern in the suburbs."
BOAT/ACCOMMODATIONS:

On board the deluxe vessel you will enjoy a classic elegance. With a spacious well-designed light-filled interior, a partially covered sun deck, comfortable cabins, great cuisine, and accommodating crew, your time onboard will be relaxing, refreshing, and memorable!
TOTAL CABINS ON THE BOAT: 71

All cabins are air-conditioned and have en suite facilities with shower, hairdryer, television, radio, telephone, and a small refrigerator. Cabins are attractive and modestly sized, all with private baths most with 2 beds. All upper deck cabins have a French balcony with floor to ceiling windows.
BIKING: – Bikes are included; E-bikes are available for an additional $98.
ITINERARY:

Day 1:
Passau, boarding time between 4 and 5 pm. Departure by ship at 7 pm to Engelhartszell.


Day 2:

Engelhartszell - Untermühl - Great Loop - Linz, 22 mi. (35 km)


Day 3:

Linz - Mauthausen - Grein, 22 to 26 mi. (36 to 42 km)


Day 4:

Grein - Melk - Tulln, 31 mi. (50 km)


Day 5:

Tulln - Vienna - Nussdorf/ (Korneuburg may also be possible), 22 mi. (35 km)


Day 6:

Vienna - Nussdorf / Korneuburg (day of rest)


Day 7:

Wachau - Pöchlarn, 24 mi. (39 km)


Day 8:

Passau, departure
The range is $1795 - $1995 (shared), depending on cabin type. A very limited number of solo (not shared) cabins are available for singles, at approximately $2295. Email danceadventures@comcast.net for details. $500 deposit secures your spot. See details under "HOW TO SIGN UP" below.
You will fly into Munich and typically take a train to Passau and taxi to the boat terminal (See details below). Air travel and land transfers from Munich are not included, although we will be arranging group travel for those who arrive on the same day.
Email Jae at

danceadventures@comcast.net

ASAP

if you are interested in joining us. Space is

VERY

limited. We will confirm your details. You will t

hen book

with the travel agent and c

omplete the registration process where you

specify your preferences for room type, regular or

e-

bike

, special

diets

(vegetarian and gluten free, vegan is not specifically available)

, etc.

A

$500 deposit

is required to book your

reservation,

the remainder is due in 45 days.

They do charge a 4% Credit card fee; there are several other payment options including checks and PayPal.

Single follows are asked to sign up

with a single lead

.

We will assist in matching single roommates.

You may remain on board

for a day of rest

if you choose not to bike.

INCLUDED IN THE TOUR PRICE:




Accommodation shipboard

for 7 nights

Captain's greeting and complimentary welcome beverage

Full meals (breakfast, onboard light lunch for

non-cyclists

/ packed lunch for cyclists, & dinner). V

egetarian and gluten-free diets can be accommodated.

Afternoon coffee break

Daily cabin cleaning

Farewell dinner on last night including cocktail

Daily live music

Dedicated onboard tour guide and biking tour leaders
7-speed unisex bicycle with hand brake & pedal brake or pedal break only (based on availability). Please indicate your preference at booking & we will do our best to confirm). Equipped with pannier bag.

Bicycle protection/insurance

Information packet with route book (one per cabin)

GPS tracks available for download

Daily informational meeting

Port fees

All Shipboard Gratuities

are included

Pop-up dance classes and dances with Ari Levitt

on rides, shore visits, and onboard

Tour details and fun managed by your Tour Director/Camp Counselor, Jae Gregory!

Beverage Packages offered from €6,50-€25 daily -can only be booked on board

Helmets - adult helmets can be purchased on board (rental is not possible); cost is approx. €45

. You may want t bring your own.

Any extra meals, s

nacks, gifts, souvenirs,

or sundries

not included on board

Travel Insurance

.

A travel insurance policy is highly recommended for all travelers!

A pedal-assist E-bike

(90 euros or $98

for the duration)
ADD-ONS:
Trip extensions are available for those who wish to arrive early or stay longer

. See dates section above

.
*************************************************
**SOLD OUT! -- SHIP IS NOW FULL**
DETAILED SCHEDULE:
*PRE-TRIP MUNICH ADD-ON* (Aug 24-26):
---OPTIONAL---
To allow people as much freedom as possible, we are providing a schedule of planned group activities for our time in Munich. Since people will be coming from all over and may want to be flexible on their arrival and departure dates, we felt this would be the easiest way to accommodate everyone. Feel free to join us on as many of these activities as you would like or to opt out as you wish. There is no added cost to our tour price. You would be expected to cover your own costs for food, transportation, museum entrances, etc. a la carte.
HOUSING:
You may also consider looking at VRBO.com or AirBnB.com to see about renting a private room or pension in the area.
If you are looking for a roommate or have any other questions about lodging that you would like to post to the group, or if you have any suggestions about tickets, places to stay, or great deals you found that you would like to share, please feel free use our Worldwide Dance Adventures Facebook page for postings and discussions.

Ari & Jae will be based at the Ostbahnhof Station (Munich East Train Station, Orleanspl. 14, 81667 München, Germany). If you would like to find a room or space walking distance from the Ostbahnhof, that will make it easier for us to rendezvous. But it's very easy to get around by train, bus, or rail, so anywhere you would like to stay can work fairly easily.
GETTING TO MUNICH FROM THE AIRPORT:
It's very easy to get to Munich from the Munich airport using public transportation. You'll exit the Munich airport building and walk across the very large covered plaza to the U-Bahn/S-Bahn station on the other side. Go downstairs and buy a ticket from the S-Bahn ticket counter or from the automatic machines near the tracks (it's the AirportPLUS-Ticket). You can buy a one way ticket (11.20€ ) or a day pass (which might be a good option if you're planning to use the U-Bahn or S-Bahn several more times that day) .

The S1 and S8 S-Bahn lines connect the airport to the Munich city center at 10-minute intervals. The S1 travels via the west of the city and the S8 via the east. The trip to the main railway station at the city center takes approx. 40 minutes and costs 11.20€

Busses and shuttles are also other options available. Busses also take around 40 min and cost €11. Munich also has Uber (costs vary, but will be more expensive) and you can reserve your ride up to 30 days in advance.
Cheap day tickets and public transportation travel cards offer great savings on ticket prices for travel on U and S-Bahn trains, buses, and trams in Munich (München) in Bavaria. You can read more about public transportation tickets options HERE.

There is also a Munich City Pass and a Munich Card (Details HERE). The Munich City Pass (starts at 47 Euros/day) is the flexible all-inclusive ticket for your city trip. With the City Pass you are not only granted free admission to Munich's top sights but also free travel with the local public transport. The Munich Card (starts at 13.90 Euros/day) offers flexibility as well by combining a ticket for the public transport with discounts to many attractions.
DAILY SCHEDULE:
(Subject to change)
Wed, Aug 24:
Arrive in Munich, check into your hotel/AirBnB/etc.

6:00pm: Meet together for dinner and dancing at one of Munich's famous Biergartens (TBA Shortly -- still confirming locations):
Thur, Aug 25:
10:00am: Downtown walking tour of historic highlights, Marienplatz, and the Townhall

9:30am rendezvous at Ostbahnhof to head to Marienplatz, or

10:00am meet at Marienplatz at the large pillar in the middle of the square with the golden statue on top facing the Rathaus (city hall) building (see below):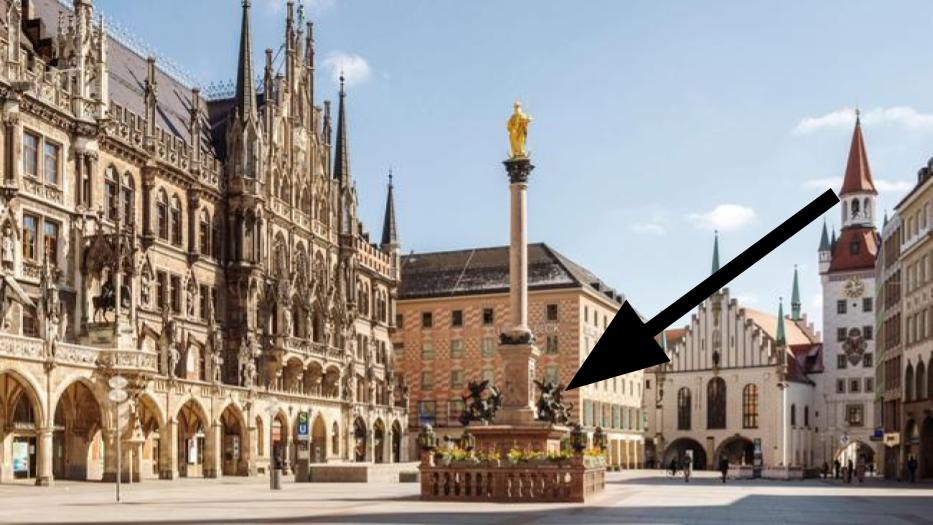 12:30-ish: Lunch at the Hofbrau Haus: Platzl 9, 80331 München, Germany

2:00-ish: Continue Walking Tour of Old Munich

6:00pm: Dinner and dancing at Waldwirtschaft's Jazzbiergarten: Georg-Kalb-Straße 3, 82049 Pullach im Isartal, Germany
Fri, Aug 26:
Tour of Nymphenburg Palace, Marstallmuseum, & Botanic Gardens:

9:30am: Rendezvous at Ostbahnhof, or

10:00am meet at Nymphenburg Palace main entry:

LOCATION: Schloß Nymphenburg 1, 80638 München

COST: €11.50 Euros

CLICK HERE

for details

Lunch: (TBA)

Early dinner in historic bodega: (TBA)

Friday night workshop and dance party at "Swing & The City"

Location:

Aschauer Str. 24, 81549 München

Time & Cost:

(TBA)

Workshop Topic:

(TBA)
DANUBE DANCE, BIKE, & BARGE CRUISE (Aug 27-Sept 3):
Sat, Aug 27 (Day 1): We'll meet in Munich as a group and take the train to Passau. At 4pm we'll board the ship and at 7 pm we depart for Engelhartszell (also known as the "City of Three Rivers"). Enjoy your first dinner on board. No doubt we will dance!
MEETING PLACE in MUNICH: Munich Ostbahnhof

We will meet together at 12:00pm at the

meeting point (to be determined) in the Ostbahnhof train station

TRAIN TICKET COST (Munich to Passau): We'll take the 12:24-2:39pm train. It's roughly $25 O/W or get a R/T fair to return on Sept 3. You can purchase the ticket online HERE or at the train station (but it may be more expensive the day of)
MEETING POINT at PASSAU TRAIN STATION: (For people finding their own way to the Passau Train Station)

Meet in the front main exit of the train station at 2:45pm

TRANSPORT COST from PASSAU TRAIN STATION to the SHIP: We will take a cab from the train station to the embarkation point (about a 10-minute ride. Budget $10-$20)
MEETING AT the SHIP in PASSAU (For people finding their own way to the ship): Be there by 4pm

Passau Lindau, Pier L2 or L4 (Steiger L2 oder L4)

Address: Franz-Weismann-Straße 1, 94034 Passau

In case of emergency, you can reach the reception of the MS Prinzessin Katharina at

+421 917 883851
Sun, Aug 28 (Day 2): Engelhartszell - Untermühl - Great Loop - Linz, 22 mi. (35 km): Today's bike route leads through a number of charming villages and bucolic landscapes. We'll stop and try some of the special cordials and liqueurs in the Trappist monastery in Engelhartszell (these are said to have "special healing power"). If you need a break from cycling, you can opt to take the little ferry boat through the romantic Schlögener loop where the river makes a very abrupt 180-degree turn. In Untermühl, we'll re-join the ship and cruise to Linz.

Mon, Aug 29 (Day 3): Linz - Mauthausen - Grein, 22 to 26 mi. (36 to 42 km): In the morning we'll visit both the Austrian town of Mauthausen and the Celtic town of Mitterkirchen with their beautiful historic town centers. After that, you'll also have the option to bike one of two routes. For easy cycling, you can stick to the path along the Danube. Alternatively, you can take a more difficult route to the "Clam Castle" through the beautiful back-country of the Strudengau. It is slightly hilly, but a fantastic landscape. Worthy of a visit to Grein is the impressive Castle of Greinburg.

Tues, Aug 30 (Day 4): Grein - Melk, 31 mi. (50 km): Today's stage is marked by a diverse landscape. At the beginning, there is the Strudengau – a narrow point of the Danube, which used to be notorious among skippers. In Melk, we'll visit the gorgeous baroque monastery of the Benedictine brethren. The ship will sail to Tulln by night. Tulln is well-known for its numerous market gardens where the famous Art Nouveau artist Egon Schiele was born.

Wed, Aug 31 (Day 5): Tulln - Vienna - Nussdorf 22 mi. (35 km): Right in front of Vienna's entrance, embedded in a breathtaking landscape, is the monastery of Klosterneuburg. From a distance, you can see the cupola of this 900-year-old baroque building. "Kahlenbergerdorf" and its wine taverns are definitely worth a visit. After a stroll through the vineyards, you can enjoy the panoramic view over Vienna.

Thur, Sept 1 (Day 6): Vienna - Nussdorf / Korneuburg - Today's treat is touring this lovely city with Ari who has been here many times for his "Waltz Week in Vienna" program. We'll be sure hit all the most famous places of interest like the St. Stephen's Cathedral, the Hofburg Palace, the gorgeous boulevard "Ringstraβe" with the Burgtheater, the State Opera House, and the beautiful town hall. In the evening, we'll visit some of the famous Viennese coffee houses and bodegas before boarding the ship and departing for Krems.

Fri, Sept 2 (Day 7): Wachau - Pöchlarn, 24 mi. (39 km): Passing through small dreamy villages and by apricot orchards, vineyards, castles, monasteries, and other historic ruins, we'll arrive at the small Baroque town of Dürnstein, famous for the blue tower of its monastery church that is a landmark of Wachau. In the evening, we'll celebrate the end of our tour onboard with a farewell dinner and cocktails.
Sat, Sept 3 (Day 8): Passau: Every journey draws to an end. Passing through the Danube Valley, we'll take a last look at the Schlögener Schlinge ("Great Loop") before arriving in Passau where we disembark at 11:30 am. From there, we'll take the train back to Munich where we'll regroup again for dinner and a swing dance party at the famous Vintage Club (Home of the "Rock that Swing" festival).
TRAIN FROM PASSAU to MUNICH: Passau to Munich Ostbahnhof

TAXI from SHIP TO PASSAU TRAIN STATION: We will take a cab from the ship

disembarkation

point to the Passau train station (about a 10 minute ride. Budget $10-$20)
TRAIN TICKET COST (Passau to Munich): We'll take the 12:19-2:43pm train. It's roughly $25 O/W. You can purchase the ticket online HERE or at the train station (but it may be more expensive the day of)

6:00pm:

DINNER

near the VINTAGE CLUB:

8:00pm: SWING DANCE PARTY at the VINTAGE CLUB:

LOCATION: Sonnenstraße 12b, 80331 München, Germany
*POST-TRIP MUNICH ADD-ON* (Sept 4-6):
---OPTIONAL---
Sun, Sept 4:
Optional morning dance workshop at "Swing & The City"

Location:

Aschauer Str. 24, 81549 München

Time & Cost: (TBA)

Workshop Topic: (TBA)

Lunch & outdoor music & dance in the Hopfengarten:

LOCATION: Hopfengarten (outdoor dining), Siegenburger Str. 43 (Opens 11:30AM)

Sunday Outdoor Swing in the Hofgarten

LOCATION: Temple of Diana in the Hofgarten

TIME: 5-8pm, weather permitting

Optional late Dinner and more dancing at a famous Munich Biergarten (TBA)
Mon, Sept 5:
Day trip to either Neuschwanstein Castle in Bavaria (2 hrs away; the famous castle that the Disney Sleeping Beauty's Castle is modeled after), or to Salzburg (2.5 hrs away; a charming Austrian city, birthplace of Mozart, and setting for the movie "The Sound of Music"). We will decide as a group which one to go to.
Tues, Sept 6:
Walk or bike the Englischer Garten;

TIME: 10:00am

LOCATION: Englischer Garten, Munich, Germany. Meeting spot TBA

Lunch:

Mini-Hofbräuhaus im Englischen Garten

TIME: 12:30pm

LOCATION: (in the Englischer Garten) Gyßlingstraße, 80805 München,

Tour the Residenz (former royal palace):

LOCATION: Residenzstraße 1, 80333 München, Germany

COST: €13Euros

Dinner and goodbye dance party at "Swing & The City"

Location:

Aschauer Str. 24, 81549 München

Time & Cost: (TBA)
Here's a little swing video from our partners in Munich!
============= BIKING DETAILS AND MILEAGE =============
A limited number of E-bikes are available
Day 1: Passau, boarding time between 4 and 5 pm.  Departure by ship at 7 pm to Engelhartszell.
Day 2: Engelhartszell - Untermühl - Great Loop - Linz, 22 mi. (35 km)
Day 3: Linz - Mauthausen - Grein, 22 to 26 mi. (36 to 42 km)
Day 4: Grein - Melk - Tulln, 31 mi. (50 km)
Day 5: Tulln - Vienna - Nussdorf/ (Korneuburg may also be possible), 22 mi. (35 km)
Day 6: Vienna - Nussdorf / Korneuburg (day of rest)
Day 7: Wachau - Pöchlarn, 24 mi. (39 km)
Day 8: Passau, departure
SIGN UP TODAY!
Email danceadventures@comcast.net ASAP if you are interested in joining us.
Space is limited!
Why you should join us and what makes this cruise so special:
--> IT'S ALL TOP SHELF!: You'll get world-class touring and adventure with two fabulous dancing guides, with numerous opportunities for spontaneous dancing, socializing, and mingling during the afternoon bike tours and evenings on board the ship. Add to this the ship's amenities and other available activities and you've got yourself one incredible week of no-worries, hassle-free fun & adventure!
--> A GREAT ITINERARY, A FABULOUS SHIP, AND THE PERFECT WAY TO SEE THE WORLD!: We'll spend days exploring the beautiful historic villages, towns, and castles along the Danube. On any particular day, you can elect to tour by bike or stay on the ship as you please.
--> IT'S A DANCE ADVENTURE, TAILORED TO YOU!: You'll meet people from all over the USA and abroad, form great memories, and make lasting connections. We'll have games, mixers, special discussions, and plenty of dancing and non-dancing social activities planned, with lots of room for spontaneity, improvisation, and your input in our activities.
FAQ's:
Where does the ship leave from and how do I get there? The ship leaves from the port of Passau, Germany. You would need to arrange your own travel to the port which is very accessible from Munich. There are many busses, trains, shuttles and taxi's available throughout the region.
Who is the organizer and administrator for this cruise? This cruise is being organized by Jae Gregory and Ari Levitt at "Worldwide Dance Adventures" and administrated by the travel professionals at "Trip Site."
For questions related to either the cruise and/or your travel, please email Jae at danceadventures@comcast.net

For questions regarding the dance workshops, please contact Ari at arilevitt@hotmail.com
If I am single and would like to share a room, how can I find other participants who would like to do the same? If you are interested in connecting with other single participants who would be interested in sharing a cabin, please indicate this on your registration form. Alternatively, you can direct any specific questions or requests to Jae and she will be more than happy to help arrange room sharing for you. You can reach Jae at danceadventures@comcast.net.
When do I need to have my down payment submitted by? A deposit of $500 is due with your reservation of the cruise. Full payment is due 45 days later. Final payment due date is 90 days before travel (May 29, 2022).
What is included in the price? What additional charges/fee's should I anticipate? The price includes your cruise, port taxes, dance workshops, all onboard gratuities, bike rental and insurance, dance instruction & activities, tour leaders & organizers. It does not include bike helmet, E-bike upgrade, transportation, airport transfer, optional onboard amenities or incidentals.
Are prices guaranteed? Yes, but only through May 29th, 2022, or until the number of group cabins allotted to us by the ship are sold out. After that, the pricing cannot be guaranteed, and will fluctuate based on the ships current room charges and availability. Please check with Jae to confirm the latest status and pricing for rooms.
What is the refund policy? Once cabins are confirmed, the cancellation policy takes affect.
Up to 84 days prior to departure: 25% of tour price

Day 83 – day 42: 35% of tour price

Day 41 – day 28: 65% of tour price

Day 27 – day 4: 90% of tour price

Day 3 – No show: 100% of tour price
*If your country of origin or destination country enforces a government mandated travel restriction or quarantine regulation within 4 weeks of your travel date, you would be eligible for free rebooking, or full refund (minus €20/person administration fee).
A travel insurance policy is highly recommended for all travelers!
What kinds of dance classes will be offered? Specific workshops topics will be decided closer to the sailing date (and on the ship) in order to best tailor the lessons to the group's abilities and interests and to the available space. Styles will be selected from among swing, latin (salsa, cha cha, merengue, rhumba), ballroom (waltz, foxtrot, etc), night club 2-step, 1-step, blues, and fusion. We can be fairly flexible with how all of this is set up.
Will there be opportunities for private lessons? Yes, these can be arranged individually with Ari onboard the ship or beforehand by email.
What level will the dance classes be geared toward and what will be their focus. Group classes will be geared toward the adv-beginner/intermediate level dancer (ie: you should be comfortable with beginning level dance steps, connection, and framework, and be ready to move forward from there). If you still consider yourself a novice dancer, not to worry. You have plenty of time between now and August to sign up for some local partner dance classes and get ramped up! (I would recommend classes in swing, blues, salsa, latin, or ballroom, although just about any kind of social partner dance would be fine).
The class format will be very much geared toward fun, playful social partner dancing, which is to say that we will not be focussing on performance choreography, competition styling, or line-dancing. In each workshop, we'll start by laying the groundwork for strong partnering foundations, imparting a clear understanding of how connection, framework, and energy can be utilized to create playful movement and improvisations, and reviewing basic steps and combinations. On top of this we build a wide-ranging repertoire of fun moves and variations.
What is the dress code for the ship? Casual attire is perfectly fine for the cruise. Informal attire might be nice for an evening or two if you wish...
Informal attire: For men this might include shirt, jacket, and slacks; and a summer dress, or slacks & blouse for women.
Casual attire: This is fairly flexible.
What travel documents will I need? As per all international travel, you will need to bring a current passport from your country of citizenship. A driver's license is also recommended. No special visas or further documentation will be required for US citizens in these ports-of-call. You will need proof of COVID vaccination for European travel. Check with you airline for any requirements they might have.
Do I need any special immunizations for international travel? Covid Vaccination is required. You should also make sure that your regular shots are up-to-date.
If I have any questions, who should I contact?
For questions related to either the cruise and/or your travel, please contact Jae (with World Wide Dance Adventures) at danceadventures@comcast.net.
For questions regarding the dance workshops, please contact Ari at arilevitt@hotmail.com
Save the dates for other
Dance Adventures in the works:
Aug 27–Sept 3: Dance Bike & Barge Cruise on the Danube. Plus

3

day

extensions Aug 24–27 and/or Sept 3–6th (TBA).
**SOLD OUT! -- SHIP IS NOW FULL**
Sept 30–Oct 11:

Back to back

Boston Waltz Weekend

(Fri, Sept 30-Sun, Oct 2)

+ New England Fall Foliage Dance Cruise, Boston to Quebec City (Sun-Sat, Oct 2-8) + Quebec City dance weekend! (Sat-Tues, Oct 8-11).

Friday to Sunday we dance in Boston; Sunday we board the ship to Quebec -- it's the perfect way to dance your way through New England at the perfect time of year! Saturday to Tuesday we explore the beautiful UNESCO-site city of Quebec where we will be hosted by the local dance community.
October

23

–

30 (Tues-Tues):

San Miguel de Allende, Mexico. This UNESCO site will be the prefect backdrop for our dance-travel adventures!
March

14–21 or 15–22

(TBA):

Chacala, Mexico. We will plan to be there for the Chacala

Music Festival

(Mar 18 – 20)

, with a Puerto Vallarta extension

.
We are always looking for exciting new places to explore together with a great group of dancers, and are currently looking at options in Costa Rica, Nicaragua, Greece, Italy, Croatia, The Netherlands, Canada, and the

Galapagos

. If you have any ideas or suggestions about places you would like to go, let us know!