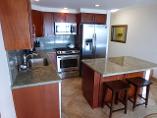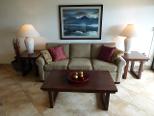 Enjoy Roll Up The Rug's Hawaii Vacation Rental (Kihei, Maui)
An All New, Beautifully Renovated 5th Floor Maui Condo, with Amazing Views, Just One Block Off of Kamaole Park -- One of Maui's Most Beautiful Beaches!
This beautiful superior-rated condo is managed "off-island" by Roll Up The Rug and "on-island" by AA-Oceanfront, and as such, Roll Up The Rug can offer you and your friends a special 20-30% discounted rate from the regular AA-Oceanfront listing price! (An equivalent hotel will run $350-$500/night) The seasonal listing periods & rates are shown below. All you need to do is to CLICK HERE to check out the calendar for availability, then contact Ari to set up your stay (scroll down to the bottom of the page to read how to do this).
Much cheaper than local hotels, and with a full kitchen, bathroom, & bedroom compliment, it's the perfect way for you, your family, and/or friends to enjoy a wonderfully relaxing vacation in paradise!
DESCRIPTION:
This exquisitely appointed, 5th floor, ocean-view, one bedroom condo sleeps four people comfortably and features all new furniture, appliances, and amenities. If you are looking for an upgraded vacation experience, you will not be disappointed! Attention has been given to every detail (See pictures at the bottom of this page). Highlights include:
Beautiful ocean views from the living room and balcony
Air conditioning for your comfort, ceiling fans in living room & bedroom
WIFI Internet
Large flat screen TV with cable connections
All new contemporary furniture
All new cabinetry
New luxury California king sized mattress in the bedroom, and a very comfortable top brand hide-a-bed sofa in the living room (with thickest mattress available)
Beautiful tiled flooring throughout
Fully equipped kitchen with dishwasher, gas stove, toaster, coffee maker, waffle maker, rice cooker, BBQ equipment, and more...
Beautiful granite counters and backsplashes
All stainless steel appliances (microwave, stove, dishwasher, refrigerator)
Totally renovated bathroom with a beautiful granite vanity
Tiled shower with rain-head nozzle and large sliding glass doors
Washer & dryer
Great selection of beach supplies
Tommy Bahama beach chairs, beach matts, umbrellas
Mask & snorkel gear
Boogie board, assorted beach toys...
Parking spot
The building is situated on a spacious 8-acre campus with 2 swimming pools, 2 tennis courts, a shuffleboard court, barbecue facilities, lush tropical landscape, and steps away from shopping and restaurants. It is also located just across the street from one of the area's most beautiful family-friendly beaches, Kamaole Beach Park II, with life guards on duty daily.
Nearby the famous Kamaole Shopping Center is within walking distance and offers many of the best local shops and restaurants. Also nearby you will find the resort towns of Wailea & Makena, as well as several of the island's best world-class golf courses. We're 25 minutes from Kahului airport. The unit is managed professionally year-round by AA Oceanfront.
BOOKING RATES AND FEES *please also note the additional charges and taxes below:
The REGULAR (non-discounted) BASELINE RATE as listed by AA Oceanfront is:
Low Season 2016 (4/14/2016 - 12/13/2016)
$160.00/day $1,120.00/wk
Holiday Season 2016 to 2017 (12/14/2016 - 1/16/2017)
$255.00/day $1,715.00/wk
High Season 2017 (1/17/2017 - 4/25/2017)
$225.00/day $1,500.00/wk
Low Season 2017 (4/26/2017 - 12/13/2017)
$175.00/day $1,175.00/wk
YOUR DISCOUNTED RATE through "Roll Up The Rug" would drop those prices in the low and high season to:
Low Season 2016 (4/14/2016 -12/13/2016) [30% Off]
$112.00/day $735.00/wk
Holiday Season 2016 to 2017 (12/14/2016 -1/16/2017) $255.00/day $1,715.00/wk *The 30% special discount is not available during the holidays. Sorry :(
High Season 2017 (1/17/2017 - 4/25/2017) [20% Off]
$180.00/day $1,260/wk
Low Season 2017 (4/26/2017 - 12/13/2017) [20% Off]
$140.00/day $980.00/wk
ADDITIONAL FEES & TAXES:
In addition to the baseline fee, you will need to pay a one-time $110 cleaning fee, a $55 condo booking fee, and a 13.42% Hawaii State Tax per stay.
There is an additional $10/day surcharge each for the 3rd and 4th person in your party
Other options that may or may not incur an additional charge would include either buying renters insurance for $32 or providing a fully refundable $250 deposit, and/or an additional 3% surcharge if you decide to pay by credit card versus paying by check or money order.
BLACK-OUT DATES: The discounted rate for the unit is available during all low season periods, but may have restrictions or black-out dates during certain high season and holiday periods Check with Ari for availability.
MINIMUM STAY: The minimum stay is five nights
TO BOOK YOUR STAY:
1) CLICK HERE to view the calendar on the AA Oceanfront web page for availability (Please ignore the pictures you see there. The updated photo's of the fully decorated unit can be seen at the bottom of this "RollUpTheRug" webpage)
2) If you have any questions or if you would like to reserve the property, please email Ari at: arilevitt@hotmail.com with the title in the header reading "RUTR Hawaii Condo", and the following information in the text:
Your name & contact information (email address, phone):
Your home city/state or city/country:
The exact dates you would like to rent the unit:
The number of people in your party:
Any special requests:
Ari will reply with a quote and a confirmation, and then set you up with AA Oceanfront to complete the payment & reservation process. Easy as pie :)
Mahalo & Aloha!
Amazing anniversary in maui

- Jeff C.

This rental was fabulous!!!! We can't say better things about it. Perfect location, the view was spectacular, and it was equipped with EVERYTHING we needed. It was quiet and extremely relaxing for our anniversary get away. It was amazing too because Hawaii had perfect trade winds when we were there so opening up the doors and windows created an amazing breezy due to it being on a higher level. We will definitely stay here again!!!!
Stayed:

July 2015

Submitted:

Source:

VRBO
Paradise

- Amy & Rodrigo

Wow! what an amazing find, and what an amazing place to stay with a wonderful ocean view -- we love this unit! The renovation is beautiful, the amenities are top notch, and the location is perfect! Loved the décor -- kind of a zen with the Japanese cranes and bamboo tree to compliment the lovely view of the ocean. It was close to everything we needed. The air conditioner, waffle-maker, and wi-fi worked great. Loved having the beach chairs. We couldn't be happier here :) As an added plus, it was an absolute pleasure working with the owner to reserve the space -- very friendly and accommodating. The on-island management team was also very friendly, very easy to deal with, and very responsive when we called. Cost-wise, we were also very impressed that for a superior-rated unit (which it definitely is!), the price was amazing, especially compared to staying at a local hotel. We will definitely be back again next year (already booked the space)
Stayed:

April 2014

Submitted:

Source:

VRBO
D511 is a slice of heaven

- Sharon G.

The views are even better than the pictures.Wonderful location away from the busy main road. No noise at all but that could be the time of year, just birds singing. Everything you could possibly need is here from boogie board to blender. The AA Oceanfront Management have been the most professional and a pleasure to deal with. This condo is very clean and comfortable and fully loaded with high quality furnishings and appliances.
Stayed:

September 2014

Submitted:

Source:

VRBO
Kihei Vacation Feb. 03-Apr. 01

- Anton K.

I have vacationed in Hawaii numerous times since 1979. I have always enjoyed staying at the Kihei Akahi and especially at the newly renovated D511. The pictures on the VRBO site are exactly as advertised. From the moment one enters the unit and looking down the hallway, one will be amazed by the beauty that lies ahead (swaying palm trees and the great blue Pacific Ocean). The unit has a newly tiled floor, new kitchen cabinets with a centre island, and state of the art appliances. The bedroom has a very comfortable king size bed with nicely appointed furniture and bedding. The bathroom shower is spacious and there is never a shortage of hot water. The living room area has a very comfortable sofa couch and a new 55" or 60" plasma TV. The unit is also equipped with an apartment sized washer and dryer. The ceilings fans in the living room and bedroom provided all the comfort without having to use the air conditioner. The lanai is equipped with a highboy table and two chairs. Eating our meals on the lanai was very relaxing and watching the sunset in the evening something special!! All in all this unit has all the comforts of home. The complex is situated across from Kameole 2 Beach and within walking distance to restaurants, bars, retail and food stores. I was really impressed with the management company who manage D511. The staff was always courteous and professional in all matters regarding the rental. The owner responded promptly to my e-mails and has been a pleasure to deal with. I would highly recommend this unit to anyone whether it be short or long term stay. I look forward to my next stay at D511 in 2015!!
Stayed:

February 2014

Submitted:

Source:

VRBO