Join us for
A Week of
Dance Adventure in
San Miguel de Allende
Oct 25 - Nov 3, 2023

10 days-9 nights in San Miguel, including a 4-day city-wide celebration of "Halloween" and "El Dia de los Muertos"-- not to be missed!
San Miguel de Allende is a beautiful world-famous UNESCO site, with cobblestone streets filled with original colonial architecture and a wonderful vibe and ambiance.
This trip features lodging split between two convenient locations, daily breakfasts and dance classes, plus lots of exploring this remarkable city. We will visit museums, gardens, hot springs, churches, and enjoy the numerous wonderful restaurants – many of them rooftop.
We will have classes each day AND dance every evening to live music in one of San Miguel's many wonderful local nightspots.
Lots of teaching, lots of dancing, lots of adventure!
Our first four nights in San Miguel, the entire group will be staying at the beautiful "Casa de al Noche" -- an award winning boutique-style bed & breakfast located in a former bordello.
The next five nights we move to two different lodgings close to Parque Juarez, a wonderful area to explore. La

Gran Casa del Parque is a spectacular old-world style luxury home for those who want an extra-deluxe experience for an additional $150/pp. This will be our base for many of our group activities. Hotel Real de Minas provides a charming and comfortable Mexican Hotel experience with spacious rooms and grounds. Both properties feature beautiful gardens and pools.
CLICK HERE

to view "Casa de la Noche" room choices

CLICK HERE to see things to do during our free time!

CLICK HERE to register online!
Or email Jae at
danceadventures@comcast.net
today to reserve
your spot!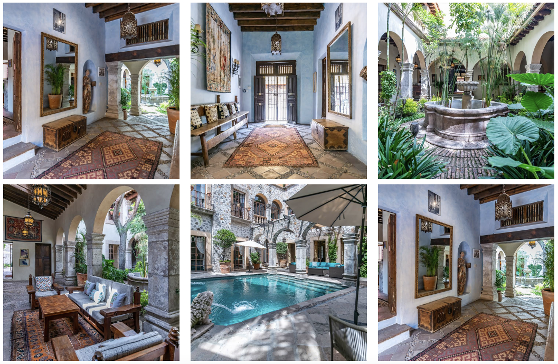 This trip will sell out very quickly, so register t

oday to reserve your spot. Don't delay! Prices range from $1995 (shared) - $2250 (shared) - $2395 (shared) - $2895 (single), plus air, and include

accommodations split between two beautiful historic bodegas,

airport transfers, a guided city tour, welcome dinner, daily breakfasts, gratuities, and our wonderful last night dinner celebration, plus all dance classes, group

activities

,

and

parties.



In order to keep the lead/follow ratio even, we encourage all single follows to sign up with a single lead. No lead? Sign up anyway for the follow wait list.



Who this trip is right for:

Non-novice social partner dancers with a sense of adventure who would like to explore one of the most beautiful and charming cities that Mexico has to offer!

Easy-going affable people who would like to be part of a fun interactive group of like-minded travelers...

Folks who don't mind doing a fair amount of walking (much of it on cobblestone)...

Not sure if you're a fit? Contact us at danceadventures@comcast.net




A desire to get to know new people and a sense of humor will ensure you have a fun relaxing dance adventure with us in this beautiful part of the world!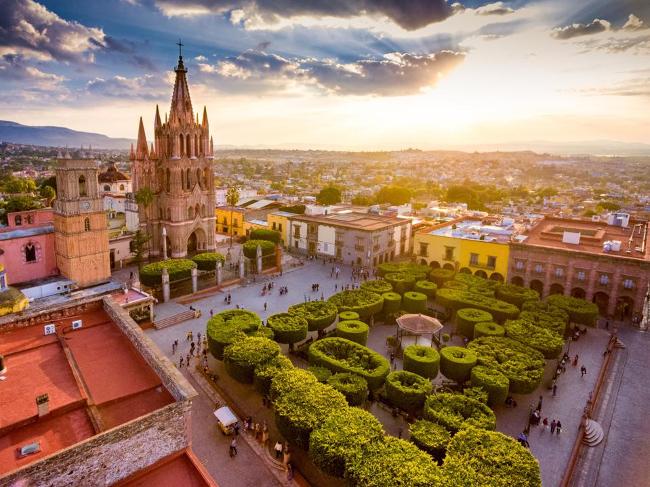 Join us this Fall for an amazing Dance Adventure in
San Miguel de Allende (Mexico)
with Ari, Jae, & Worldwide Dance Adventures!
Oct 25-Nov 3, 2022
A 10-day tour of San Miguel and the region, including 4 days of their world-famous "Halloween" and
"Day of the Dead" celebrations, hot springs, art, culture, music, dance, food, fun, and more! (see details at bottom of page)
A truly amazing experience!
CLICK HERE to register online!
Email Jae at danceadventures@comcast.net for any questions

LOC
ATION
:
Our week of dance adventure will be held in the historic colonial town of San Miguel de Allende in the highlands of Mexico. San Miguel is a world heritage site known for the art, culture, architecture, friendly people, indigenous influence and exceptional cuisine, and was recently named by Conde Nast and Travel and Leisure as the "Best Small City in the World". Besides dancing at every opportunity with daily lessons and evening dance action, you'll be able to sample the best of Mexico, visit two local hot springs, attend a fabulous Halloween night at a local artist colony, meet the local dance community, and fall in love with the warm Latin culture!
DANCING
:
The

dance classes

will be Latin flavored (salsa, cha cha, rumba, merengue, bachata, and tango, PLUS optional blues, swing, fusion, ballroom and other styles at the groups discretion) with an emphasis on connection, fun & playful combo's, and effortless partnering

.

C

lasses

will only take up a small portion of the day (two hours in the morning at most).

Our afternoons and

evenings

will be spent venturing out for exploring, touring, dining, & dancing in the numerous local venues.
Included in this package:

Transportation to/from Leon (BJX) or Queretaro (QRO) airports

A welcome margarita and Mexican dinner

Your own private or shared room with private attached bathroom split between two different historic bodegas

A daily healthy-start breakfast

A tour of the city

A tour of the region with a visit to Mexico's "Sistine Chapel" and famous Art House, "La Casa de las Ranas"

All dance workshops and group parties

Final evening dinner/dance party

All taxes, fees, and 15% hospitality gratuity
ACCOMODATIONS:
We will be splitting our stay between two locations.

The first is "

Casa de la Noche

", a beautiful historic hacienda and former bordello that just oozes history and charm.

The Casa has recently been named "Best of the Best" by TripAdvisor and has its own art studio, spacious gardens and grounds, guest kitchen, superb location, and original art throughout the property.

The second location will be in one of two different historic villas -- Casa Grande del Parque, and Hotel Real Minos. These will be apportioned based on the level of room you signed up for.

We will have more information and photos about these sites on our website shortly, but for those choosing the higher end Suite's package, you will be staying in Casa Grande which is very beautiful and richly steeped in local culture and charm.

To learn more about historic Casa de la Noche, please visit:

www.casadelanoche.com
COST:
The cost for this 10-day, 9-night dance adventure is in three different tiers based on your room of choice. Pricing ranges from $1,995 to $2,250 to $2,395 USD per person for shared occupancy, or $2,895 USD for a single room. Rooms choices will be allotted first-come-first-served based on the order we receive your deposit.

There is a $150 add-on if you would like to stay at the "Casa Grande del Parque"

Space is limited, so

if you are interested in joining,

contact Jae ASAP at danceadventures@comcast.net

DEPOSIT (required to hold your space)
Send your $500 deposit (per person) to Ari using one of the following methods:
VenMo (@Ari-Levitt-1)

The picture is of Ari lifting his dance partner.

The last 4 digits of his phone are 9172. There is no surcharge for using VenMo.
*DAILY SCHEDULE:
10/25: Arrivals and welcome dinner/dance at Casa de la Luna.

10/26: Morning breakfast, dance class. Afternoon town tour and exploration. Evening class and dance in town.

10/27: Morning breakfast, dance class. Afternoon special event (see one of the top 10 Things to See). Evening Dance in town.

10/28: Morning breakfast, free time to explore/tour. Evening classes then Dance in town.

10/29: Change locations to new

accommodation

; Day off to relax and explore on your own.

10/30: Morning breakfast, dance class. Halloween Party at Aurora Art Institute, Dance in town.

10/31: Morning breakfast, dance class. Afternoon special event (see one of the top 10 Things to See). Halloween Festivities in town.

11/1: Morning breakfast, dance class. Day of the Dead Cemetery Tour & Festivities in town.

11/2: Morning class, free time to explore/tour. Final night group dinner/dance & Day of Dead Festivities in town.

11/3: Check out by 9 am. Transfer to the airport.


THINGS TO SEE & DO:

Garden & Home Tours – These guided tours visit both historical and modern buildings that are part of San Miguel de Allende and showcase various architectural styles that make the city unique.

Winery region tour -- Carefully curated tours designed for you to experience the wines and culture of Colonial Mexico

Painting class

Visit the Botanical Gardens

Guided Historic Walking Tour of San Miguel

Visit the Mercado de Artesanias (no guide needed…)

Tour of San Miguel's Churches and Chapels

Tour the regional olive oil producers (can include breakfast or lunch)

Cooking class at the "La Cocina" cooking school (owner, Kris Rudolph, runs the El Buen Cafe in San Miguel)

Casa da las Ranas -- an eclectic artists villa just outside of San Miguel

Fabrica La Aurora -- an art & design center with art studios, galleries, antiques, cafe and restaurants,

Late lunch in the garden at Nirvana's superb restaurant, known for its inventive, farm-to-table cuisine.

Escondido Hot Pools -- half day excursion

Visit the botanical garden at El Charco del Ingenio.

Museo Historico – former home of Ignacio Allende

Visit Sanctuary of Atotonilco. (30 minute drive) This historic church complex is a UNESCO World Heritage Site and is famous for its Mexican Baroque murals. The paintings are so beautiful, in fact, that it has been dubbed the "Sistine Chapel of Mexico."
HOW TO GET THERE:

San Miguel de Allende is in the heart of Mexico at 6200 ft elevation. The closest airports are Leon (BJX) or Queretaro (QRO) and shuttles to and from the airport are included in your package.

You will need a current passport to enter Mexico. The expiration date on your passport should be no less than 6 months after the last day of your visit. A tourist visa will be issued to you at the airport upon arrival. Consider travel insurance in case your plans change.

The ATMs in San Miguel accept VISA, MC and other bank debit and credit cards for access to Mexican pesos.

You do not currently need proof of vaccination to fly to Mexico or to return to the United States. Please check with your airlines and with the most recent CDC update to view any change in regulations. Requirements for travel to Mexico can be found at HERE.

Information about return travel to the US can be found at HERE.
HOW TO SIGN UP:
CLICK HERE to register online!

Email Jae at

danceadventures@comcast.net

if you have any questions
A $500 deposit is required to book your reservation. There are several payment options including by check or Venmo (with no additional charge), or by credit card or PayPal (with a

3.5% additional card fee).

To keep our numbers balanced, single follows are asked to sign up with a single lead. If you can't find a single lead, sign up anyway and we will put you on the waiting list. We are trying to keep the lead-follow ratio as balanced as possible.
We will assist in matching single roommates as needed.
Casa de la Noche will contact you to assist with airport shuttle service, making reservations for pick up at the BJX or QRO airports.
QUESTIONS?
If you have any lodging questions please contact Barbara at Casa de la Noche (info@casadelanoche.com; 831-373-8888).
CANCELLATION POLICY:
1) You will receive a full refund minus a $150 cancellation fee if cancelled within 14 days of your registration and greater than 180 days

prior to the trip. You will receive a 50% refund minus a $150 cancellation fee if cancelled after 14 days of registering but more than 180 days prior to the trip. Within 180 days of the trip, all purchases will be final. If you are cancelling due to your own health or to the health of a family member, your travel insurance should be able to reimburse you for the cost (check your insurance policy for details).
2) PLEASE NOTE: If you need to cancel for any reason, your ticket is fully transferable (minus a $150 administration fee) contingent upon confirmation and approval from Worldwide Dance Adventures. With their consent, you can sell/transfer your spot to another person on your own. The other person will need to register separately online for the trip and let us know on that form that this is a transferred ticket (not purchased). They will also need to pay any cost differentials.
3) PLEASE NOTE: If the trip has to be cancelled by the organizers for any reason, Worldwide Dance Adventures will first attempt to reschedule. If you are unable to attend the new dates, a full refund will be given, minus any credit card or PayPal fees accrued.
TRAVEL INSURANCE:
Travel insurance will help protect your investment and is required for all of our trips. CLICK HERE to purchase insurance through our affiliate company, World Nomads*




*PLEASE NOTE: World Nomads provides travel insurance for travelers in over 100 countries. As an affiliate, we receive a small fee when you get a quote from World Nomads using this link. We do not represent World Nomads. This is information only and not a requirement to buy travel insurance through this company.